@patrick.m Kami/Yi needs to fix this. Most people like myself will of set up an account via Facebook. One will need to be able to merge accounts if one has to make an account the other way.
I have the same issue as @SneekyB, I have 2 1080p dome yi cameras, one streams fine to my Google hub but the other one the hub informs me it is unavailable. Unlinked and relinked my account numerous times and the feed works fine in the yi home app for the none working camera just not when I want to stream to the Google hub. Weird that I have 2 identical cameras and one works with the hub and the other doesn't…
Thanks
Edit: after trying it sometime later, it now works. Always the way when you mention something not working then decides to work…
Hi,
@Rymaan I'm glad to hear you are now able to stream both your YI Dome 1080p cameras to your Google Nest Hub. Due to the recent service interruption that has now been resolved, we are working with our internal team to make sure our YI Home cameras work properly when streaming with the Google Nest Hub.
Hi,
@MilkinMore Thank you for your feedback. I understand, we have a lot of customers who use Facebook as their login to use our YI Home app. We will take this information that you have provided into consideration.
Hi @patrick.m
I spoke too soon the one that wasn't working is and now the other isn't. Seems so hit and miss and I have yet to get both working without issues on the nest hub, it is a shame as they can't be relied upon to work correctly without any issue.
Thanks
Same here. It worked for a day and now no longer working.
@Rymaan @SneekyB I apologize for the inconstancy with your YI camera not working properly with Nest Hub. I ran into the same issue yesterday but was able to stream the camera on Nest Hub with the process that I'm providing you now. Please try the following steps provided below.
On your Nest Hub screen, swipe down from the top. Click on Cameras.
From the list of cameras shown, click on the camera you are trying to view.
The camera will link up and show it streaming on your Nest Hub.
If this doesn't work please email us at support@yitechnology.com to look further into the issue with your camera and Nest Hub. @Rymaan please use ticket #426004 @SneekyB please use ticket #426005
Please let me know if this works.
Hi @patrick.m,
Neither work now voice commands or using the pull down option on the nest itself. As I say it works randomly but most of the time it doesnt. Shame the cameras aren't reliable enough to use with the hub and maybe it's time for me to invest into a more reliable solution that works with the hub.
Thanks
Thank you! it was very useful.
Hi,
@Rymaan I would like to assure that we are working hard to make sure that our compatibility with Nest Hub is reliable. Please try this process that also worked for me. I was able to stream my YI camera by turning off the camera in the YI Home app and then turning it back on. To do this, go into your YI Home app and click the hexagon symbol inside your camera thumbnail. In Settings, at the top of the screen, click on the green toggle switch to turn the camera off. Click the grey toggle switch to turn the camera back on. After doing so, try to stream your camera with Nest Hub.
Hi @patrick.m
That does seem to work but like today I've had to do that at least 4 times to get it to appear throughout the day. I appreciate the help and possible solutions but that just seems like a work round rather than a fix. It should just work and not require you to pick another device up, go into an app and toggle the camera off and on for it to appear on the nest hub. as I'm in the app using the above method, I might as well just go into the camera on my phone rather than getting it to display on the hub. I'm not entirely sure why it works sometimes and then not others. Is there no information on why it does this? Has it ever worked flawlessly on the hub?
Thanks
Hi all new to this forum I've tried all of this mentioned the issue I have is am able to log in soon as I log in it's sort of sends me back to the set up page on the Google assistant page
@Rymaan We are currently looking into this matter and addressing the consistency issue with our YI cameras streaming with Nest Hub. There have been times when the YI camera was able to stream to the Nest Hub without issues. We hope to have this matter resolved soon.
@elsworth1983 I'm not sure what you are referring to. What are you logging into that sends you to a Google assistant page? Is the Google Assistant page located in the Google Home app?
Hi I shall type out the process I do, I open up the Google home app go to set up device select have already something set up select yi home camera go to log in all details are correct logs me in then Google home goes back to this screen as attached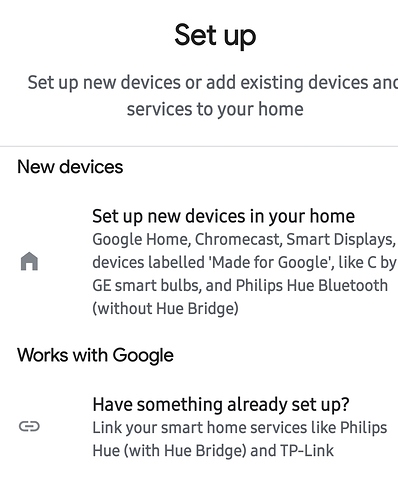 Sorry for late reply didn't get notified you had replied to me
@patrick.m
Hi,
@elsworth1983 Thank you for providing me this information. I checked our backend with the email you used to create the account for this forum. I noticed the app you have your cameras paired with is the YI IOT app. Currently, YI IOT cameras are not compatible with Google Home. There is no YI IOT app available to search for in the Google Home app. Only YI brand cameras that are paired in the YI Home app can be linked with Google Home. If you have another account and using the YI Home mobile app with Yi cameras paired on the account, please let me know.
Hi, I have Yi Home 1080p camera and I when I try to login to my account in Google Assistant I'm getting error with incorrect password. But issue is that this password is working in Yi app.
–
edit, Ok, I have changed password and it worked

But as I don't have home hub I can't use it

I was wishing that I'll be able to say start security mode and turn off security mode without entering app.
Hi,
@Mistic92 I noticed you mentioned after you changed your login password you were able to link your YI camera in the Google Home app. Unfortunately, the only feature YI has with Google Assistant, is the ability to start and stop a stream to a Google Nest Hub, or Google speaker to Chromecast on a TV. Thank you for your input. We appreciate your feedback.
Yep, somehow my previous password was not working even when I was able to login into app. After changing it all works well.
It would be great if I could say to start/stop monitoring my flat or have ability to integrate with Home Assistant as I can automate things through this.