Hi,
Is it possible to enable Home/Away mode with Alexa voice commands? Thanks
Hey @emmettf, no sorry, the home and away function can't be activated with Alexa voice commands. Here's an article that might help!


Does this work with the Echo show 5 yet…because it is a bit misleading when it doesnt.
Thanks for the reply @Kami_Mark . Thats a pity, so theres really no Alexa functionality unless I have an echo show?.
Hey Emmett, yeah that is correct. The main functionality is asking Alexa to bring up the cameras to view on the display.
Hey there @pingywon, thanks for joining the forum. I don't see why it wouldn't work with the Echo Show 5. Are you having trouble connecting your cameras?
I have had my cams for a good long time. 3 -1080 PTZ and 1 of the outdoor all weathers.
I had the skill enabled on my Show 5 and the cams have never shown up…just kinda crashed the Echo and the show 5 soft resets.
Yikes! I'll ask Patrick our product tester about this.

@pingywon just to confirm, you have YI Dome 1080p cameras, and a YI Outdoor cam?
@pingywon we have an Echo Show 5 at the office that we have connected to a range of cameras. Maybe your Echo needs a software update?
Its an amazon product Mark - dont they update 100x a day in the background?. I wouldnt even know how to see what version firmware I am on.
Yes I got 3x 1080 domes and 1x outdoor cam.
I made a small video of the problem. I can upload it tomorrow if you would like to see it.
Hey @pingywon a video would be good when you get a chance. You can't natively upload videos here, but if you upload it to https://streamable.com/ then copy the link and paste it into your reply it will work.
Thanks!
To check for an update use your wake word then "check for firmware".
The device will then check for any updates.
She will say "one moment while I check"
To check the version you should be able to follow:
Open the Alexa app
Select Devices
Select Echo & Alexa .
Select your device.
Select About to see your device's software version.
No idea if that is the latest firmware or no
Hi - yes that is the most current software version for Echo Show 5
Hey @pingywon please try turning the camera off and back on again from within the app and let me know if that helps.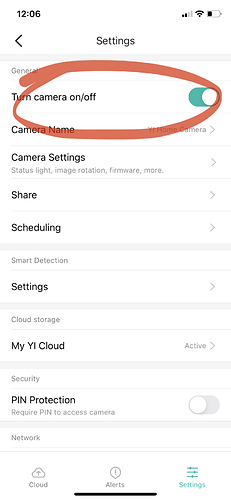 yep - I have tried that of course. This has been a long standing issue. the cams have been turned on/off and rebooted plenty of times.
any other ideas?
I have 6 or 7 cameras 720p, 1080p, 2 outdoor cameras and I have been screaming for a year that they are no longer being discovered by Alexa. Your Alexa skill has one start because of all the people that are saying the cameras are not being discovered. I had 3 or 4 customer support contacts where the reps would say they will follow up with the tech team and get back to me. they never do and just resolve the tickets. How can you still be surprised that cameras don't work with Echo 5? Mine stopped being recognized the moment I told ALexa to display one of them on the Echo Show. That was a year ago after black friday.