Hello YI and Kami Community!

This is a place for everyone to learn, share, ask questions, get help, and discuss everything related to YI and Kami Home security cameras and products.

Your participation counts!

If you can help another forum member by sharing your experience or knowledge, please do! The more people that contribute the better this community will become. Also, if you encounter an issue with the YI or Kami Home app, we would be very grateful if you would let us know.

Please check out the "Important Updates Category" first .

This category often includes information on recent announcements and/or the "Trending Topics".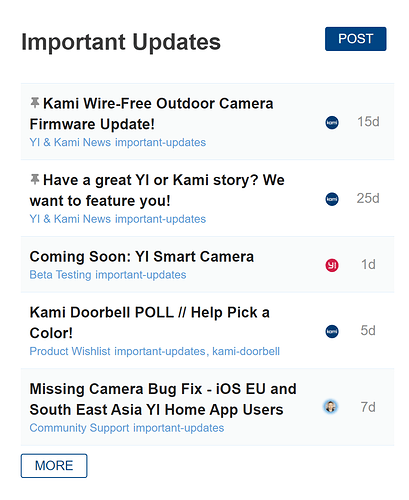 Please use the search bar before asking for help.
We would greatly appreciate that you search the 'Community Support' section of the forum for any existing discussions before creating a post. Chances are that unless you have an unusual or unique problem someone else has already posted about the issue you are currently experiencing.

Before creating a new topic search please search for an existing one.
If there is an active discussion thread about the issue, please join in and add your question or comment to it rather than create duplicate threads.
Please be descriptive and detailed when posting.
When creating a new topic please use a descriptive topic title. Also, please give a detailed summary of your problem in the topic body.
Always include details of the make and model of your camera and phone, when the issue started, and steps you have taken to try and resolve the issue (if any).
Please select the correct category.
Don't cross-post the same thing in multiple topics.
Please be courteous, and friendly.
Some issues may require more time to get resolved than others. For those situations, it helps to remain patient. Name-calling or other abuses could get your post reported for violation of the
YI Technology Forum Terms of Service
.
Do not post information like your account name, password, phone number or other personally identifiable information publicly
.
Thank you for taking the time to read this. Here's hoping you enjoy being in the forum as much as we do.
See you around!