𝗛𝗼𝘄 𝘁𝗼 𝗰𝗿𝗲𝗮𝘁𝗲 𝗮 𝘀𝗲𝗰𝘂𝗿𝗶𝘁𝘆 𝗣𝗜𝗡 𝗼𝗻 𝘆𝗼𝘂𝗿 𝗬𝗜 𝗛𝗼𝗺𝗲 𝗔𝗽𝗽?
You can set a passcode for each of your camera's live feed through the YI Home App.
In order to view the camera, you will be required to input the correct PIN.
You can set a pin following these steps:
Login to the YI Home app.

On the Home screen, click on the hexagon symbol inside the camera thumbnail.

Under Security, click on the toggle switch to enable "Pin Protection".

Set up a 4 digit PIN number. Then enter the PIN number again to confirm.

After configuring, you will enter the 4 digit password to access to the camera.
Also, every time somebody logs into your account, you will get a notification saying somebody is trying to login to your account. If you forget the PIN number you will need to reset the camera with a reset pin or paper clip to access the camera.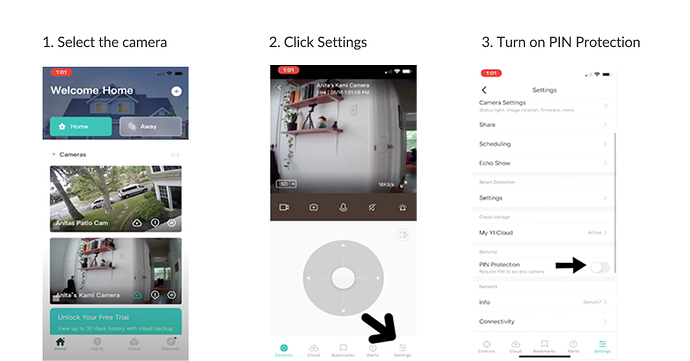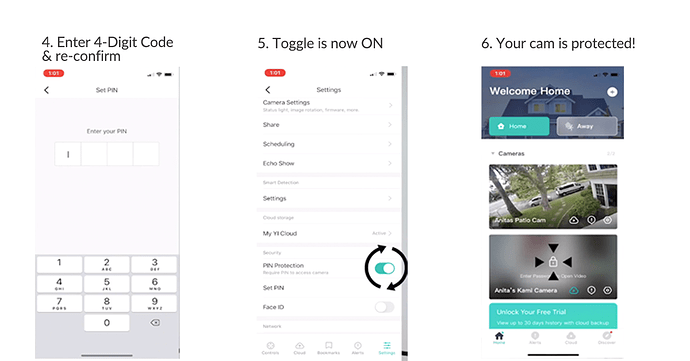 Please watch the tutorial video below. You can also copy and paste the link in your browser to watch the video: https://youtu.be/I8YM9kIpzyw
If you like this message, please don't forget to click 'LIKE'

and drop your comment below.
Thank you and have a great day!
DinaFromYI