I can hear what's happening but I cannot be heard? Any ideas anyone please🙏
Thanks for coming to the community @Afuller! I am sorry to hear you're having sound troubles.

From what you describe it seems to be a setting issue.

Please open your app, select the camera you that has 2-way audio turned off, then select settings. From the selection menu, tap on "Camera Settings" then toggle your Camera Microphone to on.

That would be the first place to start. Please let me know how it goes!

Have a great rest of the day!
Done that, the setting reverts to intercom
Hello. From the camera settings to enable two way communication via audio simultaneously you need to change the function to 'Hand-free' within the Call Mode option.
See the screen grab.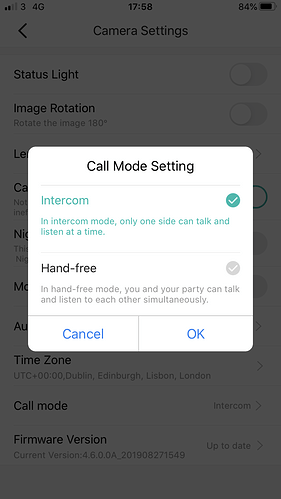 Perfect! Hands Free allows for simultaneous communication. it can be confusing sometimes knowing when its your turn to talk!

Things can be missed.

@Afuller Please let us know how this goes

I have the same issue. I change the option from intercom to hand free and it automatically reverts back to intercom. How do I get the option to stay at hands free?
Hey at @Alext What version of the app are you using?
I'm using the latest. Version 5.0.2
Update to 5.1.1 for me and give it a try. The mute button now has a saved state. If it is OFF, it will stay off after leaving and returning to the app, make sure that it switched ON
That version is not available in the Apple App Store. This issue has been ongoing for many versions already. I have tried to reset the cameras and add them back in, remove and reinstall app, etc, and still the hand-free comm doesn't work. Always reverts back to intercom mode.
Hmmm that sounds really frustrating. Can you contact our support team at www.kamihome.com/contact? We need to escalate this. Once you a ticket number, please send me the ticket number
Thanks for sending this over. I see our team has responded. We are having a hard time recreating this issue. Have you tried deleting the app and reinstalling? Can you download the Yi Home app, login with your Kami Home credentials and test the microphone?
Hey @Alext Wanted to check in and let you know we are still looking into this issue. We have yet to be able to recreate the issue. Can you please tell us what camera model do you have?
I have Yi 1080 home cameras. I have the same issue with all eight of them. Your support people told me that I'm out of luck because the camera is out of warranty now. So I guess I'm stuck with these things that don't do what they are advertised to do