Hello!
I love this app and the cameras. We use them as baby monitors and have an extra one that we take with us and set up on the go.
One suggestion/request that I have is around using the iPhone app in landscape orientation. The app changes to a landscape display when enlarging the video to full screen, but it seems that the iPhone itself still thinks it is in portrait orientation. In order to escape from the app to the iOS home screen the bar is on the right.
Here is an example of what I'm seeing in full-screen. Notice the bar at the bottom of this image. That is to my right when I hold my phone in landscape orientation.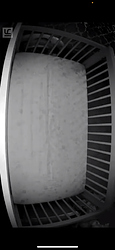 I would like for the app and phone to recognize that it is actually in the landscape orientation so that when I use airplay, the streamed video on my tv turns the video to landscape orientation as well.
Thanks!
Great product!